Our co-curricular programs include excursions, entrepreneurship opportunities, STEAM (Science, Technology, Engineering, Arts and Mathematics) classes, and community outreach. These are intended to help develop students' leadership, collaborative, and communicative skills. Brihaspati also provides extra curricular activities such as Music and instrument lessons, dance classes, Sports, swimming, Art and crafts.
Our year-round activities provide students with the impetus to discover their individual potential in a constructive, safe, and healthy environment.
Sports
Students participate in different sport such as basketball, futsal, wall climbing, roller skate , taekwondo, table-tennis, swimming.
Swimming
Wall Climbing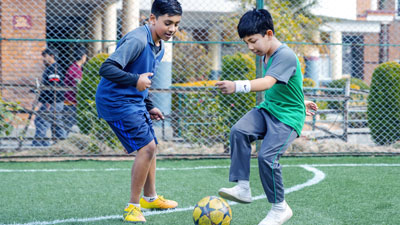 Football
Taekwondo